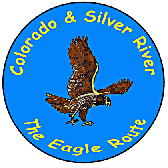 The Colorado & Silver River Railroad is a bridge route between the Union Pacific at Harriman, WY and the Denver & Rio Grande Western. The major industries served are coal, oil, cattle and farming. The C&SR is in bad financial shape and is struggling to turn a profit. The time is May 1957.
Along the Eagle Route the C&SR serves Harriman in Wyoming, Craig, Evan, Majestic, Bond, Ute Army Reserve, Monarch, Axial, Yampa, Dawson, Golden, Hell and Salida in Colorado. The C&SR interchanges traffic between the Union Pacific at Speer and the Denver & Rio Grande at both Salida and Bond. The Union Pacific traffic originates at Salt Lake City, Utah and Kansas City, KS and the Denver & Rio Grande at Denver to Pueblo, Colorado. The main C&SR yard is at Monarch.
In truth...the Colorado & Silver River is an S Gauge model railroad. My name is Chip Romig of Dallas, TX and I am the C&SR's Owner/Operator. Richard Day is currently serving the C&SR as Chief Dispatcher. The layout is constructed in a room that is approximately 28' by 60'. The railroad incorporates both standard and narrow gauge operations. The bench work was done by myself and Lee Johnson. The C&SR is a combination of the skills of several model railroaders: Les Brandt, Bill Childers, Steele Craver, Eric Davis, Richard Day, Charlie Kirk MMR, Ken Klaviter, Tom Levens, Bill McPherson, Jim 'Speed' Mueller, James Peterson, Duane Richardson-MMR, Tom Santella, George Schilp, Elbert Smith, Jerry Hoverson, MMR & Howard Stvenson.
On the C&SR we use NCE DCC for operations and all locomotives have sound and lights. We use car cards to manage all traffic across the line and we have installed JMRI & Panel Pro for the dispatcher. The operators use a telephone system to talk with the dispatcher and the layout features fully functioning signals.
Please take a look around and I hope you enjoy your ride on the C&SR. If you have any questions please feel free to send me an email.
Chip Romig, MMR 423