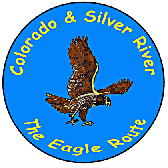 May 11, 2004
The purpose of this page is to promote operating sessions in S Scale. A typical operating session on the C & S R requires 9 engineers, a dispatcher, and a supervisor. A typical session will last 3 hours. It is a real blast to have your friends working together on your layout. It is even fun to spend a couple days getting ready and setting up the session. We use car cards for operations.
Listed below are some of the advantages of operating in S Scale.
You can read the car numbers
All the engines can have sound, even the switchers
A small amount of momentum on even the switchers make them act in a very prototypical way
The size of S Scale is not much more than HO, however the volume is. The extra mass makes the cars act more realistically
Because of the above the engineers operate on a slower pace than what I have experienced on HO.
Track electrical pickup is better in S.
Electromagnetic uncoupling works great, and delayed uncoupling even better in S Scale.
YOU CAN READ THE CAR NUMBERS !